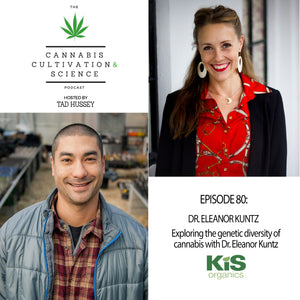 Episode 80: Exploring the Genetic Diversity of Cannabis with Dr. Eleanor Kuntz
My guest this week is Eleanor Kuntz. Eleanor is a trained herbalist and geneticist bridging the gap between traditional herbalism and modern science. She is the CEO and co-founder of LeafWorks Inc., botanical verification company using genetics to improve medicinal quality, sustainability, and transparency in the supply chain. She is also co-founder of Canndor, the People's Herbarium, the first herbarium committed to documenting and preserving cannabis cultivars and varietals along with the collective knowledge gained through community engagement. This is her second time on the show and if you are interested in learning more about herbariums, we talk more extensively about it in the other podcast. 
In honor of this podcast release, we will be offering 10% off on the Leaf Works gender ID kits through the KIS Organics Website for a limited time. We talk about the benefits of these kits and how it works in the podcast along with many other topics around cannabis genetics. 
---