Subscribe to the Newsletter
New podcast episodes, new products and updates. Delivered directly to your inbox.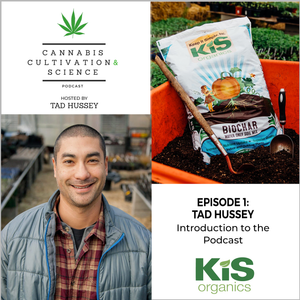 Cannabis Cultivation & Science Podcast
The podcast where we discuss the cutting edge of organic growing from a science-based perspective and draw on top experts from around the industry to share their wisdom and knowledge.
What People Are Saying
INTELLIGENT, THOUGHTFUL AND SCIENCE-DRIVEN

This is a thoughtful and inquisitive podcast. Tad's selection of guests, insightful questions, respectful but provocative questioning, and concise recaps of guests' points make this the most credible show dealing with the new frontier of cannabis cultivation. I have binge-listened to the whole library and can't wait for the next one. An invaluable resource for anyone who is curious about what's happening with the science surrounding this extraordinary plant.

Erisabites
GREAT HOST AND SUPER INTERESTING CONTENT!

I have been listening to this podcast for the past 18 months and absolutely love it! I really appreciate the depth of science that goes into it and many of the guests are not only accomplished scientists, but also very interesting people with great stories to tell. Most of all I love this podcast because I learn practical information that I can and do use to make my gardens healthier. Keep it up Tad!



BobMcCarty
SOLID VIBES

This was the first Cannabis podcast that turned me on and tuned me in, to the educating world via Podcasts. I had listened to a few podcasts prior for entertainment & a little(lot) of education, but i turned a corner with y'all. so thank you, thank you, thank you. KEEP UP THE GOOD WORK! -inserthighfive-

Willy Wander
ONE OF THE BEST!

My friend put me on to this podcast and it has been an absolute blessing. Tad is a wonderful host and he brings on an array of excellent, knowledgeable guest that provide top quality information. This is a podcast that every cannabis enthusiast should keep up with!

P. Healy
HOOKED

If you want to understand the ins and outs of cannabis cultivation and science. Definitely check out this podcast. Also great for general agricultural knowledge and personal green thumb development. 😁

aartib0
Subscribe to the newsletter
Promotions, new products and sales. Directly to your inbox.