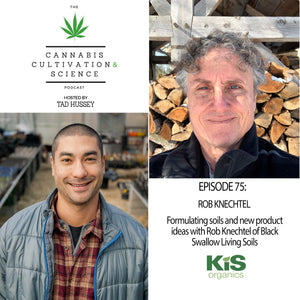 Episode 75: Formulating Soils and New Products with Rob Knechtel of Black Swallow Living Soils
My guest this week is Rob Knechtel, founder of Black Swallow Living Soils. Although Rob's life long interest in growing cannabis began in the late 60's, he has spent the past 45 years in a completely unrelated industry designing, installing and marketing fireplaces. When the Canadian government announced approximately 5 years ago that they would be legalizing cannabis production, Rob, his wife Lou and son Nathan decided to start up Black Swallow Living Soil.
Nathan runs the day to day operations with his team, and Rob along with his wife continue to concentrate on further building the Black Swallow brand. After meeting on a visit to the Gold Leaf Gardens a few years ago, Rob and Nathan began to work on a couple projects with KIS Organics, and now blend the KIS Mix based off of my formulation. In a relatively short time, Black Swallow Living Soil has gained significant recognition as a respected supplier of organic soil amendments and growing supplies in Canada, which they ship coast to coast. In this podcast we discuss exactly what goes into formulating a soil mix as well as some of the challenges we see on daily basis in this industry.
---