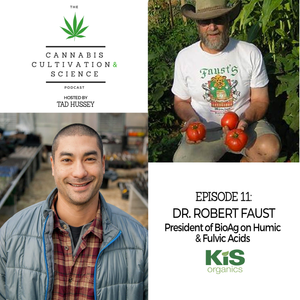 Podcast 11: Dr. Faust of BioAg on Humic & Fulvic Acids
In this episode, we interview Dr. Robert Faust, President of Bioag. 
Robert Faust attended the University of Delaware College of agriculture. His major was entomology and applied ecology.  Later he received a B.S degree from the University of the State of N.Y, an accredited university in Albany, N.Y.
His Masters of Science is in Agronomy where his thesis was field research on the use of ecological and organic methods for crop production and the use of humates and bio-based fertilizers in large-scale production in Idaho.
He received his Ph.D. from Columbia Pacific University.
Dr. Faust lived in California for many years where he was a licensed pest control advisor and IPM specialist who advised organic farmers on soil and pest management, conducted contract bio-pesticide research, and was a commercial sales manager for Safer inc. a company that produced and sold alternative pest management products.  He also conducted organic certification inspection and consulting with the organic farmers in Hawaii.
Dr. Faust is a leading expert in agroecology providing integrated services throughout the world including the United States, Egypt, Belize, Jamaica, and Mexico to assist in reducing dependency on chemical fertilizers and pesticides using new biotechnology and foliar fertilizers to increase crop yields and create sustainable systems.
---