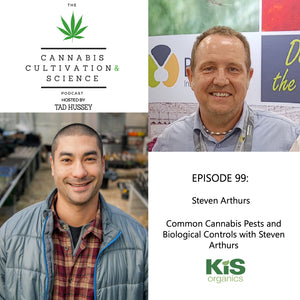 Episode 99: Common Cannabis Pests and Biological Controls with Steven Arthurs
My guest this week is Steven Arthurs. Steven graduated from the Imperial College London with a Masters of Science in Plant Protection and Integrated Pest Management. He also received a Diploma in Applied Entomology and went to get a PhD in Insect Pathology. He did his Post Doctoral work at Texas A and M researched biological pest control for thrips on ornamental plants and investigated insect/virus interactions while conducting greenhouse trials to evaluate new insecticides. From there he worked as a research entomologist with the USDA for 5 years before becoming an Assistant Professor in Entomology at the University of Florida. He is currently a research associate with Texas A & M University and also a Technical Sales Specialist with Biobee USA, a leading provider of biologically based integrated pest management. Biobee is the world's leading producer of persimilis, the most effective natural predator of spider mites. 
I'm very excited to announce that in conjunction with this podcast release, KIS Organics has partnered with BioBee to offer their wide array of beneficial insects through our website and will be shipping direct from insectary so as to ensure optimal viability of insects upon arrival.
In today's podcast we discuss the many pests we see in cannabis and what some good management options are utilizing beneficial predatory insects. Now on to the show!
---