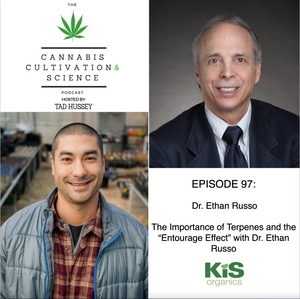 Episode 97: The Importance of Terpenes and the Entourage Effect
My guest this week is Dr. Ethan Russo. Dr. Russo is a board-certified neurologist, psychopharmacology researcher, and author. He is the Founder and CEO of credo-science.com.
He graduated from the University of Pennsylvania (Psychology), and the University of Massachusetts Medical School, before residencies in Pediatrics in Phoenix, Arizona and in Child and Adult Neurology at the University of Washington in Seattle. He was a clinical neurologist in Missoula, Montana for 20 years in a practice with a strong chronic pain component. In 1995, he pursued a 3-month sabbatical doing ethnobotanical research with the Machiguenga people in Parque Nacional del Manu, Peru.
He has held faculty appointments in Pharmaceutical Sciences at the University of Montana, in Medicine at the University of Washington, and as visiting professor, Chinese Academy of Sciences, Harvard University, and Johns Hopkins University.
He has also published numerous book chapters, and over fifty articles in neurology, pain management, cannabis, and ethnobotany. His research interests have included correlations of historical uses of cannabis to modern pharmacological mechanisms, phytopharmaceutical treatment of migraine and chronic pain, herbal synergy and phytocannabinoid/terpenoid, serotonergic and vanilloid interactions.He has consulted or lectured on these topics in 39 US states and Canadian provinces and 39 countries.
---