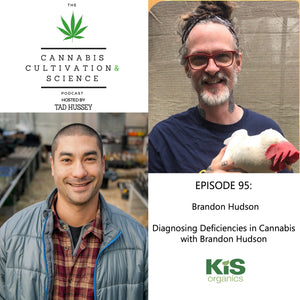 Episode 95: Diagnosing Deficiencies in Cannabis with Brandon Hudson
My podcast this week is a bit unique in that we will be discussing how to diagnose deficiencies in cannabis and how to use a dichotomous key. We have a new document available on our website that has the dichotomous key we reference in the podcast as well as images showing the deficiencies related to each mineral we discuss. So if you wanted to follow along to the podcast with visuals you can check it out here.
My guest this week is Brandon Hudson. Brandon is a second generation cannabis cultivator with over 35 years of direct experience with this amazing plant. Growing up in East Tennessee, with The Great Smoky Mountains for a backyard, Brandon can't remember a time that he didn't love the outdoors. His parents grew row crops and were advocates of the 1970s Back To The Land movement. Building on fundamentals learned as a child Brandon has applied a controlled approach to cannabis cultivation starting his first plants his freshman year of college in 1986. He currently works for KIS Organics providing growers with everything from customer support to assistance with nutrients and soil tests. A well rounded and passionate organic grower, Brandon's real passion is in soil chemistry. Most recently, Brandon was the Director of Cultivation and one of four founding members of a minority-owned hemp flower farm in South Carolina.  He provided SOPs and oversight for all aspects of cultivation from propagation to harvest and cure, including daily operation of a large nursery facility. In this role Brandon also performed several federally funded hemp trials for HBCUs as well as research projects for nutrient producers. He also worked with a group to develop sterile gels for propagation. Anyone who has met Brandon knows he is rarely as happy as when he is talking plants with other passionate growers. He is a proud dad and husband who spends his free time outdoors with his veggie gardens and chickens. Now on to the show!
---