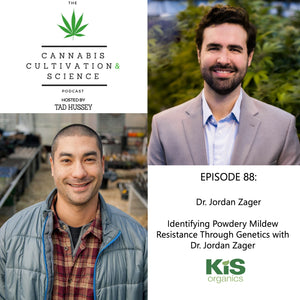 Episode 88: Identifying PM Resistance Through Genetics with Dr. Jordan Zager
My guest this week is Dr. Jordan Zager. Jordan is an expert in natural product biosynthesis and chemical analysis of cannabis resin compounds. Dr. Zager earned his PhD from Washington State University, where his research set the stage for studying the regulatory events governing gene expression in cannabis and their effect on the biosynthesis of trichome-bound cannabinoids and terpenoids. Early in his career, Jordan set his sights on aggressively applying modern scientific methods to the medicinal and recreational cannabis industry and to bring cultivators the tools to become exceptional. Dr. Zager is now the CEO and co-founder of Dewey Scientific in Pullman, Washington. Now on to the show!
Discovery and Genetic Mapping of PM1, a Powdery Mildew Resistance Gene in Cannabis sativa L.
https://www.frontiersin.org/articles/10.3389/fagro.2021.720215/full
---