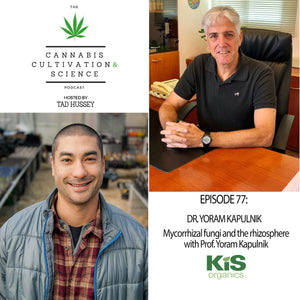 Episode 77: Mycorrhizal Fungi and the Rhizosphere with Prof. Yoram Kapulnik
Prof. Yoram Kapulnik is the Executive Director of the U.S.-Israel Binational Agricultural Research and Development Fund (BARD) as of August 1, 2017. He is the former Director General of the Volcani Center in Israel (2011-2016) and prior to this position, he served as the head of numerous Institutes within the Volcani Center.

Born and raised in Israel, Prof. Kapulnik received his doctorate in Soil Microbiology from the Hebrew University and as a Fulbright Fellow, completed his post-doctoral work at the University of California, Davis (1984-1986). He worked for more than 25 years as a Professor of Plant physiology and biotechnology at the Volcani Center, Israeli Ministry of Agriculture. His early work focused on the study of Plant-microorganism interactions, mainly in plant's roots, and their impact on crop productivity. Later, he concentrated on identification and utilization of natural products produced by numerous plants species and their health benefit to human.

Prof. Kapulnik holds 14 patents, trained more than 65 graduate and post-graduate students in his lab and has published more than 170 articles in his field in international scientific journals and edited 3 books.

During the years, Prof. Kapulnik served on numerous national and international research evaluation panels, chaired the board of the Israeli Gene Bank, the natural "food security" commission and the national working group to develop curriculum frameworks for agricultural education in Israel.
---