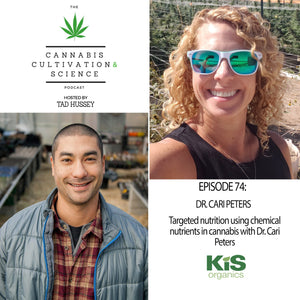 Episode 74: Targeted Nutrition Using Chemical Nutrients in Cannabis with Dr. Cari Peters
Cari Peters Raymond is Vice President at her family's company, JR Peters Inc. She is proud to be the 3rd generation of Peters at the company, following both her Father and Grandfather, who introduced the original Peters fertilizers over 72 years ago. At J.R. Peters, Cari is the formulator of all products developed by JR Peters. She heads a hard-working team (the Jack's Blue Crew) to bring new fertilizer formulas that provide solutions to growers' nutritional issues. She also manages the J.R. Peters Laboratory & provides tech support – as in, real solutions to growers using the lab or Jack's products. She has development many formulas that are all connected by the common goal to use nutrients efficiently according to a crop and stage specific nutrient target approach. Cari's vision for Jack's fertilizers include constantly looking for ways to help growers feed their plants more efficiently by using the most innovative nutrient sources.
Growing Up Blue:
Cari is a Terp & a Blue Hen -- She received her Ph.D. in Plant Sciences (2004), M.S in Agronomy (2000) from the Univ. of Maryland and her B.S. in Biology from the Univ. of Delaware (1997).
Her Research:
She grew up with blue hands – her first job was fertilizing her grandparents' flowers in their backyard when she was 8. You can hear her speak at many industry events and may even see some of the articles and chapters she has published through the years. And lastly, she is passionate about passing on horticulture to the next generation by her involvement with a wonderful non-profit called Seed Your Future.

Honors and Awards:
Forty Under Forty Young Industry Professional Award. Greenhouse Grower. Class of 2014
The Leland E. Scott Award. Outstanding Graduate Student in Horticulture. University of Maryland, 2004
FIRST in Floriculture: NGMA: National Greenhouse Management Association Scholarship, 2003
New Phytologist, Bursary scholarship, 2002
Women in Agronomy, American Society of Agronomy, 2000
Professional Societies and Other Memberships:
Seed Your Future: National leadership cabnate
Stakeholder: OptimIA (Optimizing Indoor Agriculture) is a USDA-supported
AAPFCO – Amer. Assoc. of Plant Food Control Officials – Industry Liaison
Board of Directors American Hort. The American Horticultural Industry Association 2013-present
Pennsylvania Flower Growers: Grower Advisory Council 2004 - present
Longwood Gardens: Advisory Committee 2011 - present
Executive Committee member– OFA: The association of Horticultural Professionals 2012
Board Member – OFA: The association of Horticultural Professionals 2011 –2012
Generation Next Committee Member 2008-2013; Ohio Florist Association
Ohio Florist Association
American Society of Horticultural Science
---