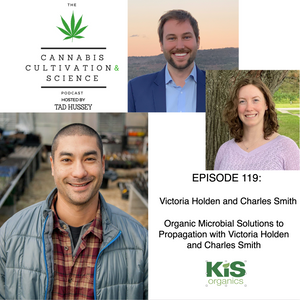 Episode 119: Organic Microbial Solutions to Propagation with Victoria Holden and Charles Smith
My guests this week are Victoria Holden and Charles Smith with a short appearance by Dr. Ben Higgins. Victoria and Charles are the co-founders of IMIO and in this podcast we discuss their products and research. They currently have brought two products to market, an organic microbial-based rooting powder and a microbial based solution for breaking down biomass faster, which has broad applications. This podcast is over a year in the making, as we wanted to run trials at Gold Leaf Gardens with Dr. Ben Higgins to see how the organic cloning product worked and get some independent data on our end. There are so many microbial products on the market these days, it very difficult to separate out the marketing from research and determine what's worth using in your garden and we want to make sure that all the products we offer at KIS Organics or talk about on the podcast have legitimate research and value.
Victoria has a lifelong interest in studying the interactions between microbes and their surrounding environment. She earned her Ph.D. in Microbiology and Immunology from the University of Michigan before moving to Dartmouth College to further her studies with postdoctoral research. As Chief Science Officer of Imio, Victoria has led the development and production of multiple microbial products that replace harmful chemicals and enable healthier, more productive cultivation of plants. 
Charles started Imio to dedicate his career to helping people, plants and our planet. After graduating from Dartmouth College, he began his career at Morgan Stanley where he focused on the technology sector. He moved on from finance to join a NYC based software startup where he gained valuable insight into scaling companies and teams. As CEO of IMIO, Charles manages Business Development and Operations, as the company works to unlock plant productivity and restore our planet through the power of nature.  
If you would like to try Root, you can check out the product page here
---