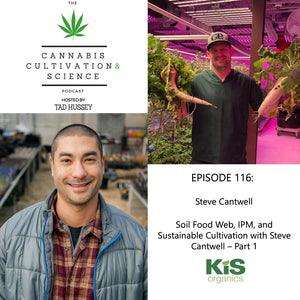 Episode 116: Soil Food Web, IPM, and Sustainable Cultivation with Steve Cantwell -Part 1
My guest this week is Steve Cantwell. Steve is a former mixed martial artist and entrepreneur known for his time in the UFC and his involvement with Green Life Productions.
Steve Cantwell was born in Long Beach, CA. He began training in martial arts at a young age and developed a passion for combat sports. In 2005, Cantwell made his professional MMA debut and quickly gained attention for his aggressive fighting style and well-rounded skills. He amassed an impressive record in regional promotions, which led to his signing with the UFC in 2008.
In recent years, Cantwell has focused on his entrepreneurial endeavors, particularly in the cannabis industry. He founded Green Life Productions (GLP) in 2014, a prominent Las Vegas-based cannabis cultivation company. GLP is known for its organic and sustainable approach to cannabis cultivation, producing high-quality cannabis.
Cantwell's involvement with GLP has allowed him to combine his passion for entrepreneurship with his interest in health and wellness. His contributions to the company reflect his ongoing dedication to promoting sustainable and responsible practices within the cannabis industry. Now on to the show!
---