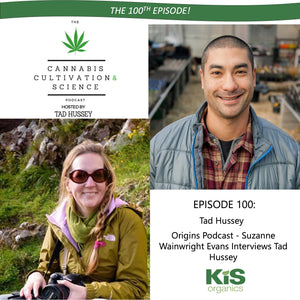 Episode 100: Origins Podcast - Suzanne Wainwright Evans Interviews Tad Hussey
This episode is a bit different. I didn't know what to do for our 100th episode and my friend Suzanne, who you all know as the Bug Lady, convinced me to let her flip the tables and interview me to share a bit more about myself, how this podcast came to be, and some of what I've learned from the many amazing guests I've had the privilege of interviewing over the past 4 years.
When I first started the podcast, I didn't really know if anyone would tune in to listen. As of writing this introduction, we are almost at 2 million unique downloads of the podcast since we launched. I'm grateful to all the folks who have reached out and shared their success stories or how something they learned on the podcast improved their growing, that's really what this is all about. 
Since the beginning I've avoided ads and sponsors because I wanted to keep the podcast accessible and free. If you want to support us, please consider going to kis organics.com and checking out our growing list of products ranging from soils and amendments to beneficial insects or reach out for any consulting needs. That's what allows us to keep the podcast going. Anyway, enough on that….let's get on with the show!
---