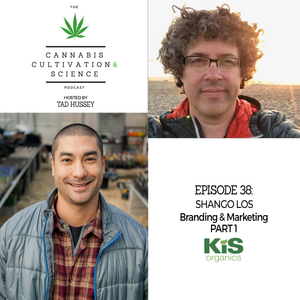 Episode 38: Branding & Marketing Part 1 with Shango Los
For anyone growing cannabis as a business or working in the cannabis industry, you know that having a great product or growing top-shelf cannabis is only half the story. The other half is shaping your message in a way to effectively reach your audience.
On that note, I had the pleasure today of interviewing my good friend Shango Los, who has had his feet in both the marketing and cannabis world for a long time now.
Shango Los is the founder of Shaping Fire and host of the Shaping Fire podcast. If you haven't had a chance to check it out, I highly recommend it. His YouTube channel features exclusive cannabis how-to videos and expert interviews.
Shango is also the founder of VIMEA the medical cannabis entrepreneur trade group on Vashon Island that has now evolved into a patient outreach and education organization hosting some of the top cannabis speakers in the world. Not to put myself in that category, but I have had the honor of speaking at a VIMEA event and that video on living soil home grows can be seen on his YouTube channel.
Shango has been working in brand strategy and marketing for 25 years and since 2013 has been helping cannabis entrepreneurs bring their products to market.
Excellent Data-driven book on Marketing:
https://jonahberger.com/books/contagious/
Good Instagram examples we discussed in the podcast:
https://www.instagram.com/leiracannagars/
https://www.instagram.com/goldleafgardens420/
https://www.instagram.com/buildasoil/
https://www.instagram.com/mammothmicrobes/
https://www.instagram.com/phantom.farms/
Probiotic Farmers Alliance Facebook Group
https://www.moontimemedicinals.com/
---